Since time immemorial, we have been consuming Gur, yet we have never tried to realize fully the immense benefits it offers. Rich in essential vitamins and minerals, Gur is hailed for boosting immunity, controlling temperature, and keeping our bodies warm during winter.

Have you ever wondered why Gur is best consumed during the winter and not just any other season? For starters, it's the only time of the year when the production of 'fresh' jaggery is at an all-time high. Gur produces heat in our body, which acts as a natural defense against cold and flu. Not only that, it is known for preventing constipation, detoxing the liver, cleansing the body, and as an effective natural treatment for menstrual problems, especially during cramps.

Gur, a natural sweetener, is unrefined sugar extracted from raw, concentrated sugarcane juice, which is boiled and solidified. Other sources of Gur include date palm and the sap of a coconut.

In this blog post, I will share why Gur is your new age superfood.
Beyond The Taste
Look past the sweetness to realize a host of health benefits associated with Gur. For one, Gur is a source of calcium and phosphorus. Calcium regulates the heart and blood sugar, whereas phosphorus strengthens the bones and teeth.
Excellent Immunity Booster
Did you know that Gur contains iron and folate in good measure? Gur is the richest source of iron that purifies and enriches the blood, boosts immunity, and prevents anemia. It also contains other antioxidants and minerals such as zinc and selenium, which boosts resistance against infections and helps increase the total count of hemoglobin in our blood.
Gur Cubes from Dhampure

Gur is particularly beneficial for pregnant women since it ensures that the normal Red Blood Cells count is maintained, providing instant energy to the body.
Relief from Constipation

The next time you feel constipated, try consuming Gur. Not only does it activate the digestive enzymes, but it also acts as a diuretic to stimulate the bowel movements in your body, providing instant relief from constipation. A key to your overall health, the regular use of Gur can kickstart digestion and prevent constipation.
Liver Detox
Want to detox your liver? As a natural body cleanser, Gur reduces the workload of the liver. By cleansing the liver and flushing out harmful toxins from your body, Gur can do wonders for your liver.
Gur
Gur is perhaps the best blood purifier there is. Clean blood is synonymous with a healthier body, free from any disease.
Treat Flu
Down with flu-like symptoms? Not to worry, sir! Grab a glass of lukewarm water to drink and add Gur cubes to it. If you are a tea lover, replace sugar with Gur to reap the health benefits.
Combat Air Pollution Naturally
Gur is rich in antioxidants that minimize the harmful effects of toxic air. One piece of Gur can clear respiratory congestion and is enough to keep your respiratory system healthy.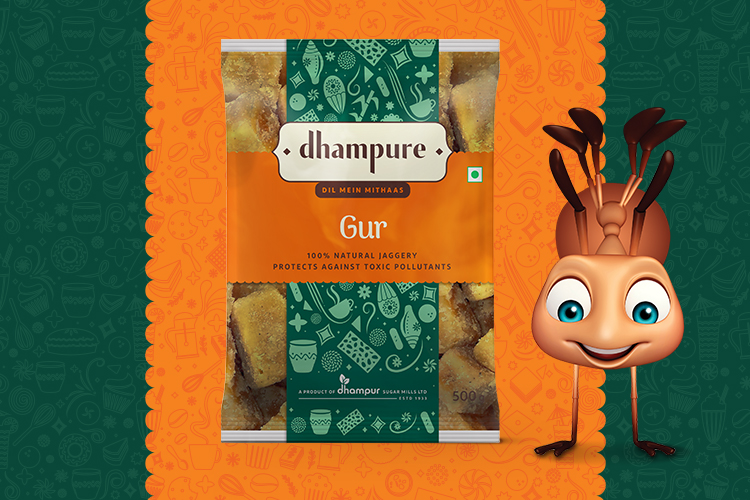 Get into the celebratory spirits this festive season with home-made
Gur from Dhampure
. Celebrate with a dab of goodness, a dash of love, and a whole lot of Gur sweetness coupled with safety and hygiene.